The Buldania Project is in the Eastern Goldfields Province of Western Australia, approximately 600 kilometres east of Perth.
The site is proximal to, and has similar geology to, the Mt Marion (71Mt) and Bald Hill (26Mt) lithium deposits.
The Project is close to major road and rail infrastructure with direct access to the Port of Esperance 200 kilometres to the south.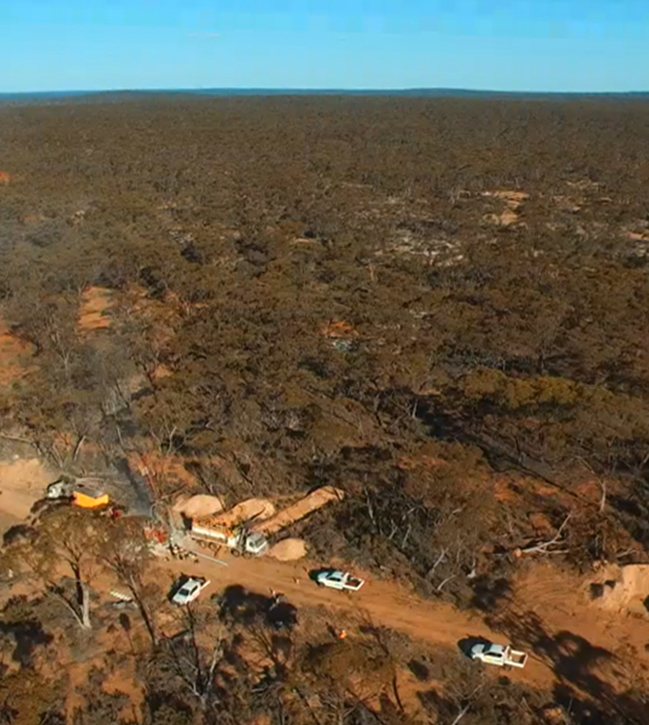 Geology
Drilling has defined a mineralised system at the Anna deposit over 1.4 kilometres in strike length, which remains open at depth.
Eight mineralised pegmatites have been identified that are sub-horizontal in the northwest (dips of 0° to -10°) and which steepen in the southeast (dips of up to -65° to the west and to the east). The mineralised pegmatites have been drilled over an area of 1,400 metres by 380 metres and to a depth of 300 metres.
The individual mineralised pegmatites are up to 35 m thick and have an average thickness of 4 metres to 9 metres and a combined average thickness of 26 metres.
Further drilling has established a second spodumene-bearing pegmatite swarm 5-10 kilometres Northwest of the Anna deposit of up to 6 metres @ 1.5% Li2O from 54m. Significant lithium results have been returned over a strike length of 800 metres at the Northwest prospect.
An emerging second project with an initial Mineral Resource of 15 million tonnes of 1.0% lithium oxide (Li2O).
Mineral Resource and Ore Reserve
The Indicated and Inferred Mineral Resource comprises 14.9Mt @ 1.0% Li2O. Over 60 percent of MRE is classified as indicated.