Underground Development Commences at Mt Mann Pit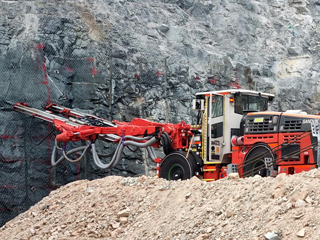 Underground preparations have kicked off at the Mt Mann pit and our underground mining services contractor, Byrnecut has mobilised to site.
As the Kathleen Valley operation continues to grow, Liontown and our contractors have been diligently working towards setting up the temporary underground mining services area (MSA) and the Mt Mann pit area for underground development.
Construction of the temporary underground MSA began in early October and there has been non-stop action in the area since. The temporary underground MSA will be the heart of the underground operation, hosting the team's offices, workshops and stores, the batch plant and the underground fuel farm, until the construction of the permanent underground MSA is completed.
Mt Mann pit has now been formally handed over from the open pit team to the underground team, and work is well underway for the commencement of underground development. Critical infrastructure, including power generators, substations, water tanks, compressors, and communication infrastructure have been established around the top of the pit and work is underway to install connections down into the pit. With the arrival of the underground equipment, we are edging closer to commencing underground mining. Byrnecut are hard at work on the pit floor, building pads that will be used to install the required ground support around the portals prior to the first development cuts being taken.
The first blasts to create the underground portals are scheduled for the middle of November 2023. Stay tuned for updated news and photos of its development.