Supporting the Yabu Footy Team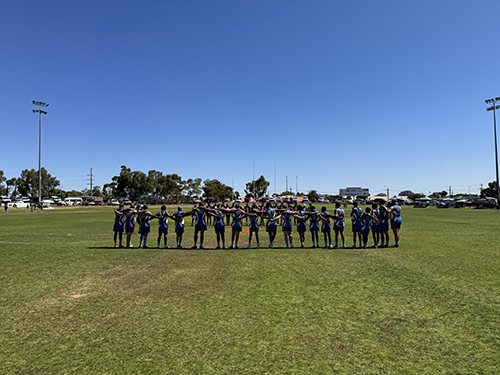 This month Liontown team members made their way to the Sir Richard Moore Footy Oval to support the mighty Yabu footy team at the Goldfield Footy Carnival in Kalgoorlie. The carnival brings together Indigenous teams from across Western Australia to showcase their skills in a two-day competition.
Liontown employees received a warm welcome from the Yabu footy team and their supporters and were each given a Yabu t-shirt to proudly wear at the event. Liontown set up a fun station at the supporter base and helped by running water for the team and supplying lunch, fresh fruit and cold drinks throughout the day. It was great fun to chat and mingle with the team and supporters and cheer on the players.
Thank you to Jeremy Neesham for organising our involvement in this year's carnival. The event was a fantastic opportunity for Liontown to connect with and give back to our local Goldfields community. The team had a great time building relationships, chatting and mingling with the supporters and cheering on the players. As the carnival came to an end, the Yabu footy team didn't get the playing results they were after, but they kept their heads high and their smiles bright. Thank you to the Yabu footy team for the amazing time we had. We hope to be there next year, supporting the team again.