Kathleen Valley Project Update
Following the award of all major mining and construction contracts at the Kathleen Valley Lithium Project, we have updated the estimates of the Project's capital cost to first production, the expected operating costs and have accelerated the previously announced expansion to 4 Mtpa by two years.
Project Capital Cost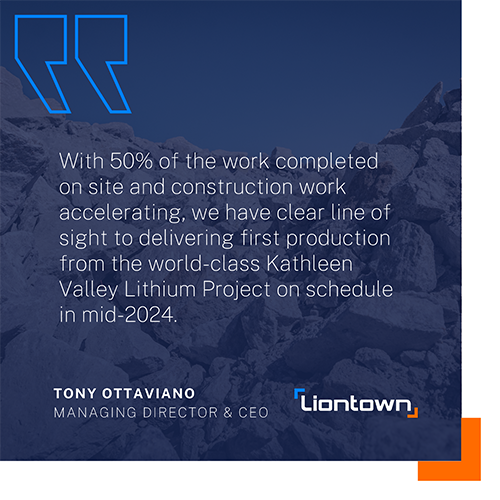 We currently estimate that the Project's capital cost to first production, including capitalised mining costs, will be A$951 million. This represents an increase of approximately 6% from the A$895 million estimate announced in January 2023. With 50% of the work completed on site and construction work accelerating, we have clear line of sight to delivering first production from the world-class Kathleen Valley Lithium Project on schedule in mid-2024.
Operating Costs
Awarding the underground mining and supply chain logistics contracts has also enabled a comprehensive review of operating cost estimates. We estimate a 10-year average cash cost of A$651 per SC6 tonne, excluding royalties. With the information received from ongoing operational readiness planning and recruiting, coupled with the award of the underground mining contract and other key operating contracts, we estimate a working capital and corporate costs of A$152 million.
Early mine development and acceleration works
In January 2023, we announced an increase in plant capacity at start-up from 2.5 Mtpa to 3 Mtpa, with a further expansion to 4 Mtpa planned for year six of operations. Open pit mining is well advanced and the optimised underground mine plan has delivered additional mining work fronts which will support the initial 3 Mtpa ramp up and accelerate the path to 4 Mtpa, now to commence in year four.
Funding
We're well advanced in discussions with commercial banks and government credit agencies to obtain the funding required to see us through to the expected generation of positive net cash flows.
Direct Shipping Ore (DSO)
We previously announced our intention to proceed with delivery of DSO to provide an early source of revenue ahead of the first concentrate production at Kathleen Valley. We have since undertaken ore sorting test work and achieved positive results. With lithium prices softening, we now plan to ore sort the DSO and add it to our stockpile to be processed by our plant. However, we retain the option to sell the DSO if market conditions improve. The DSO crushing and sorting programme will also assist in the design of a potential large-scale sorting circuit which could support the planned 4 Mtpa process plant expansion.