Increasing Tjiwarl participation in our procurement value chain
Tjiwarl Contracting Services (TCS) is a wholly owned entity of the Tjiwarl Aboriginal Corporation (Tjiwarl AC) and was established to pursue business opportunities within the Tjiwarl Determined Area and beyond for the benefit of Tjiwarl Native Title Holders. TCS implements the business development focus area of the Tjiwarl Sustainability Framework, a guide for delivering long-term benefits to Tjiwarl members. Their mission is to drive commercial access for Tjiwarl community for full economic participation towards intergenerational wealth creation and to diversify the Tjiwarl economic base for future generations.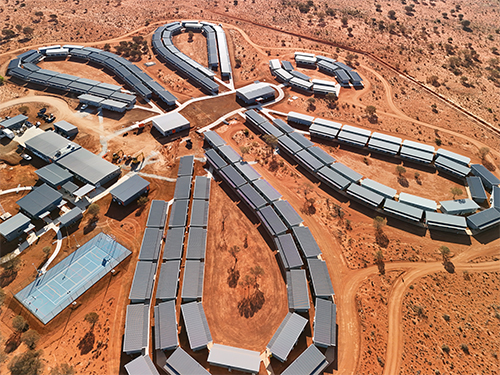 TCS has identified power, transportation, and mining as the three strategic business development areas.
Liontown's relationship with TCS began post signing of the Native Title Agreement in 2021, and a solid relationship has since developed. This has extended to our procurement processes, where all works packages are sent to prospective suppliers and Tjiwarl AC for distribution to Tjiwarl endorsed businesses so that they have access to tender for opportunities. Our newly developed tender evaluation scorecard included weighted Tjiwarl engagement criteria when awarding our underground mining contract in FY23.
Integral to the ESG and investor mandate of any company operating on Tjiwarl Estate is recognising and valuing the contributions of the Tjiwarl peoples to the economy and society as a whole, Liontown has and continues to promote and implement specific policies and initiatives to increase the participation of Tjiwarl businesses in its procurement value chain, such as to set aside programs and capacity-building initiatives. The business imperative is in increasing participation and support for services to the mines, their contractors and other companies on the Determined Land of the Tjiwarl Estate.
As a result of our close relationship, TCS has formed a joint venture with the Australian Transit Group (ATG) to establish Tjiwarl Contracting Services Commercial Transport (TCSCT) Pty Ltd, which can provide bus transport services to the Kathleen Valley mine site when underground mining operations commence.
Another joint venture, Tjiwarl Katu Power Pty Ltd, has been created between TCS and Zenith Energy (Zenith), who are contracted to build, own and operate the hybrid power station. The new company will initially provide defined services for the hybrid power station. Zenith will share their knowledge and train, develop and contract qualified Tjiwarl and related members in electrical and mechanical operations and power station performance management. They will also provide an apprenticeship program. Training and tools will be provided so that Tjiwarl can progress their careers in renewable power stations through onsite employment, apprenticeships and at the Zenith office to understand commercial aspects.
ADD Business Group (ADD) who designed, engineered, and built our dragonfly accommodation village in Kathleen Valley, has also supported TCS. ADD engaged civil contractor companies Bundarra Contracting and Cundaline Resources to provide machinery and civil earth works. Additionally, the company for a short period hired a Tjiwarl electrical engineer to assist with project scheduling. ADD also provided TCS with financial support through a 12-month contract which enabled them to set up governance systems and processes to become established as a formal entity.
This story is an excerpt from the Liontown Resources 2023 ESG Report.